||

†
..:Name:..
Marshmallow

..:Meaning:..
a spongy confection made from a soft mixture of sugar, albumen, and gelatin.
..:Age:..
2 years

..:Gender:..
female
..:Personality:..
Marshmallow is a friendly fae who enjoys the company of her fellow companions.  She is kind and caring and will quickly jump to defend her friends and pack-mates from any threats or foul words. She hardly gets mad and can see the good things in some demons, after all not every demon is bad and not every angel is good. She used to be a mischievous trouble-maker but now she has grown but she still does like to pick at wolves for fun, however she doesn't ever do it to upset the wolf. In-fact she likes to have a good laugh and hopes the other wolf won't get too mad at her jokes. Unmistakably loyal, she wouldn't dare risk putting her pack in harms way. If one were to betray her pack, then she would kick them in order to control herself, she hates betrayal and is one of the things that truly upsets her. If the wolf didn't want to leave she would most likely attack and rive the wolf out of her territory. She loves to have fun with anyone willing to have a good time, she has a soft spot for pups and will often play with her other pack-mate's pups. After all, most wolves enjoy bonding with their future members.
..:Breed of Wolf:..
Arctic Wolf, she is an Inferno Angel
(soon to be added to breeds)
..:Pack:..
Starlit Shadows
..:Rank:..
Archego
†
|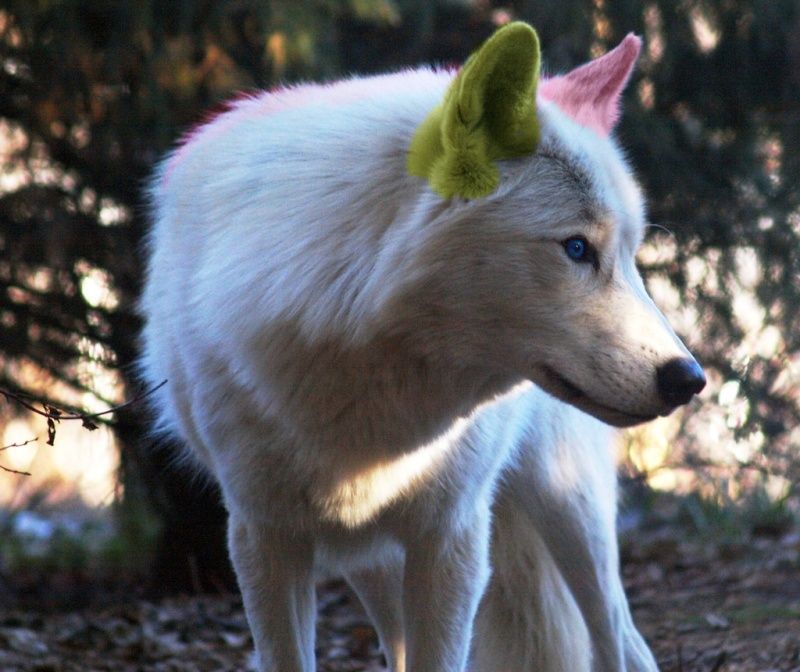 |
†
..:Appearance:..
Marshmallow is a ivory white fae with light pastel like markings. Under her left eye is a heart, similar to that of a doodle. It looks as if someone drew it onto her, but at birth she had this marking. Another odd marking is a yellow shooting star, available for show, on her right hip. Her eyes are multi-colored one being a bright blue and the other a bright green, however in the shade her eyes appear darker in color. Usually in the sunlight is when the brightness, of her eye colors, are shown. Her right aud is a yellow pastel color, and the other ear is a bright pink(depending on lighting, year, date, and time). Between her ears is a light red that seems to get more red at the tips of her fur along her tail and back. Her tail tip is, oddly enough, green! It's a light pastel green, and no other green can be found on her body except one of her eyes. Marshmallow's two front paws are a cyan blue(like her eyes) and her rear legs, have a darker blue. The darker blue reaches up to her knee, however it does stop before actually reaching it. Her cyan paws stop at her dew claw. Marshmallow is a very fluffy and soft furred fae, her friends often lay on her a lot saying things like, "Oh! It's so soft!" She very much enjoys this and finds it comfortable so she doesn't complain. Her current height is about the average size of the average fae, she hopes to stay this tall.
..:Fur texture:..
Very soft, fluffy, shiny, and thick.
..:Eye Color:..
One of her eyes is a cyan blue the other is a bright healthy plant green.

†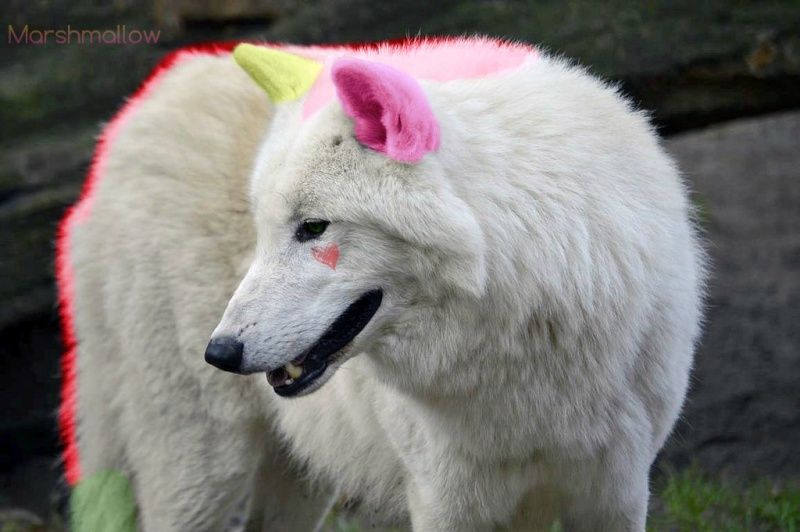 |
†
..:History:..
Marshmallow was born to Cookie and Hollow, along with her siblings Blueberry, and Frostbite. A few months passed and the weather turned vile, a snowstorm got the three of them lost. With the anxious barks and howls of their parents drowned out by the snow storm. Their scent was lost by their parents and tracks covered by the snow. Soon the siblings lost sight of each other and not to long a ivory fae with green eyes rescued Marshmallow and adopted her as her own. Soon the female grew but as she did she hid her wings, not wanting the wolves to know that she was a angel. She later left the pack after her training was complete, soon she found the Starlit Shadows. She quickly rose threw the ranks and found herself Lysander but one day the Archegos was killed during a border scrimish and Marshmallow found herself the leader of a pack.

..:Family:..
mother,Cookiefather,Hollowsiblings,BlueBerry & FrostBitemate,Nonepups.None, Future off-spring may carry all her colors or just a few, multi-colored eyes could also be present.
†
|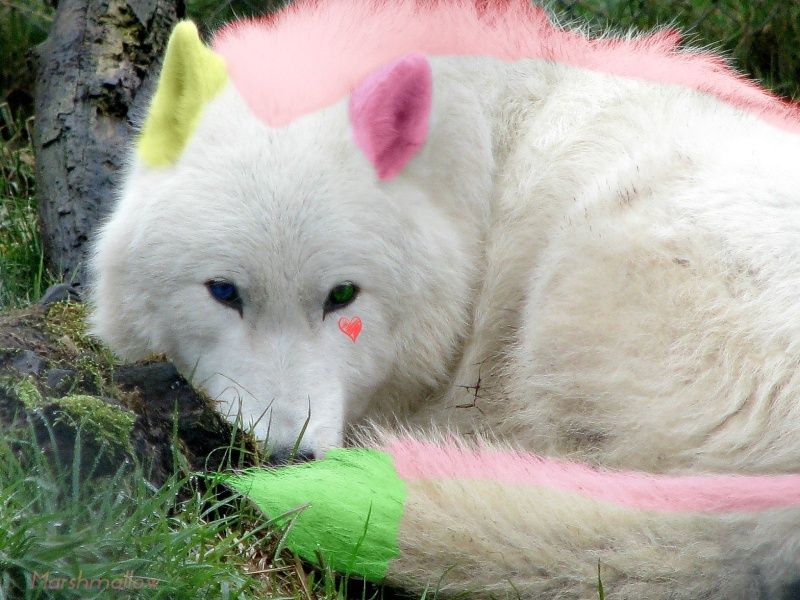 |
†
..:Theme Song:..
Girl On Fire

..:Other:..
With Hair lol
Reference
..:Secret Code:..
Guardians